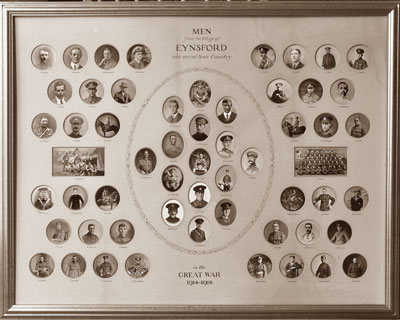 Men of the village of EYNSFORD who gave their lives
in the great War 1914- 1918

Eynsford Historical Society commissioned this large framed memorial to be restored. All the 58 photos needed attention as they were fading, and some were disintegrating. They were all photographed and optimised using photoshop.
Reframed in gold it was unveiled on August 3rd 2014, at Eynsford Village Hall, on the anniversary of the start of hostilites in 1914.
A CD is available with all the pictures of the soldiers of Eynsford which was produced for the centenery
Phone or email to order a copy from the History Society.
If you have any pictures that are fading or damaged - save them for future generations
contact Dennis on 01322 669523

Framed photos of family & pets make fine gifts for that special family occasion.
Your old family photos -
however faded and damaged can be restored.
Victorian Style sepia prints can be made
& mounted in frame of your choice.
We can combine several portraits into one,
convert to a water colour or oil on canvas
painting, the possibilities are unlimited.
A personal service is guaranteed.

For advice and prices click to email below

dmolyneux@talktalk.net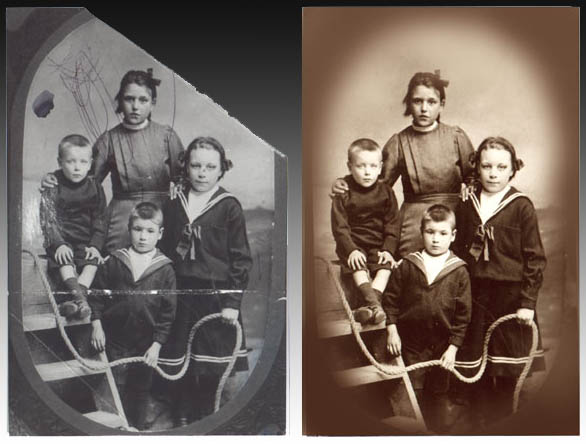 Picture torn & Stained After Retouch & Restore
This picture shot in factory on location.
After retouching. The verticals were corrected
and a window shot and curtains added.
This enhanced picture was then reduced to fit a website